Boost Listing
Areas
Research, Strategy, Design
Background
Careguide is a leading parent company of care marketplaces - Housekeeper.com, Canadiananny.com, Sitter.com and 27 others. These platforms connect care seekers with qualified caregivers, providing a trusted solution for families across North America.The platform employs a subscription-based model.
As a Senior Product Designer, I had the privilege of spearheading on this project aimed at enhancing user engagement and revenue generation. This project led an innovative addition to our platform designed to elevate user profiles in the directory, consequently increasing their chances of finding suitable jobs or candidates.
Identifying the Need
Through periodical generative research, we discovered a common user pain point: a significant number of profiles were not receiving an adequate number of messages. This feedback was reinforced by our Customer Success team, underlining the importance of addressing this issue.
Upon investigation, we pinpointed the root cause. Initially, when users created a new profile, they would naturally occupy the top positions in the directory, increasing their visibility and likelihood of receiving messages. However, as the user base expanded, their listings would gradually be pushed down, diminishing their chances of getting noticed.
Furthermore, we observed a decline in subscription revenues, signaling the need for additional revenue streams.
Conceptualization: The Boost Feature
To tackle these challenges, I along side product team came up with the Boost feature. This feature was inspired by some of our competitors like Upwork, Facebook & Kijiji. Upwork & Facebook calls it "Boost" while Kijiji calls it "Top Ad", doing that action promotes user's listing. We went for a similar approach, for us; this functionality allowed users with active subscriptions to elevate their profiles to the top of the directory, thereby enhancing their visibility and opportunities.

Design Details
The design goal was to strike the right balance between providing enough information while maintaining a clean, uncluttered interface. For the MVP (Minimum Viable Product), we opted to focus on presenting boost options and concisely explaining the value of this feature. Additionally, we added multiple touchpoints for users to access the Boost feature, seamlessly integrating it into the navigation, settings & directory areas.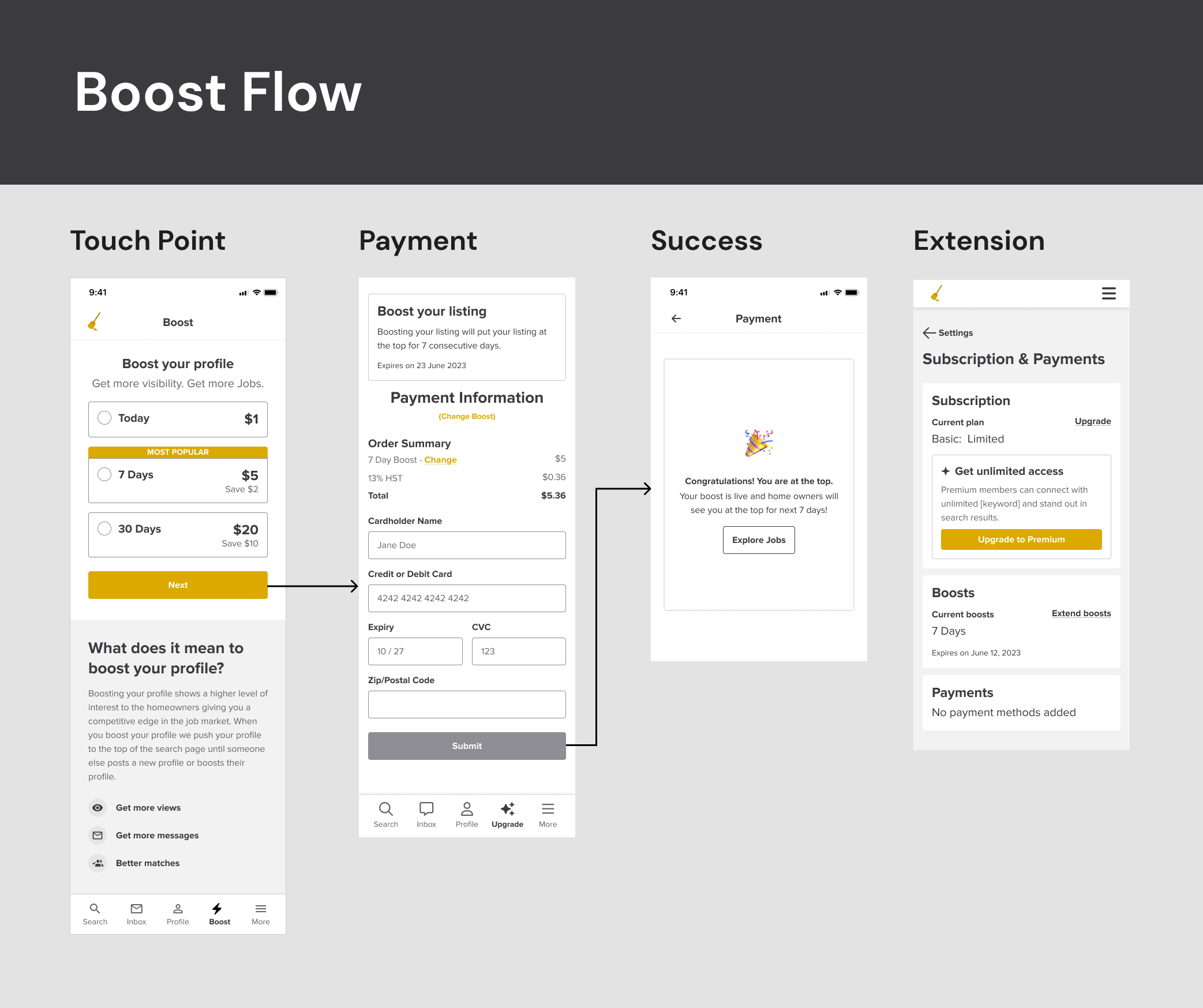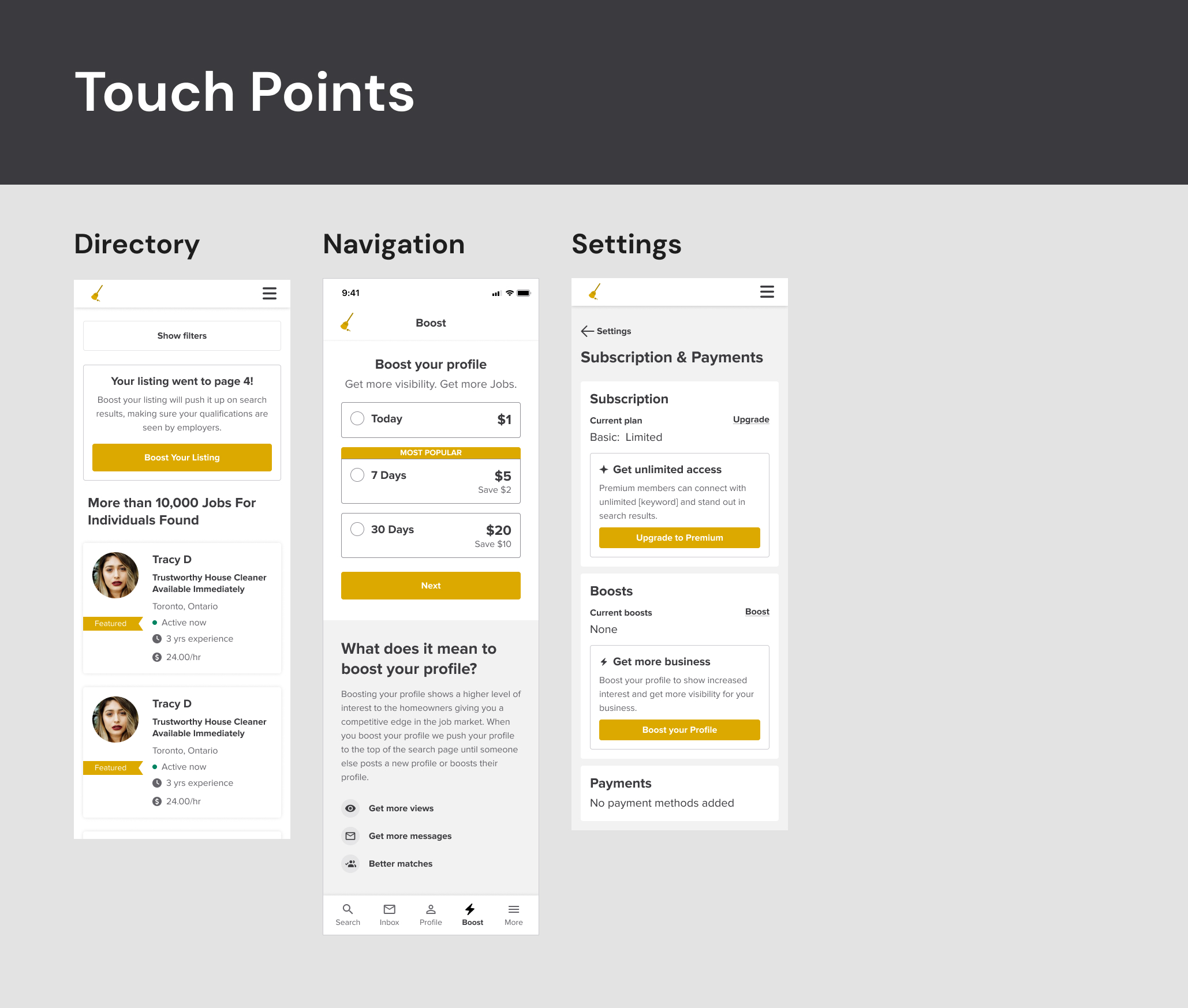 Implementation & Rollout Details
Boost Options: We offered three Boost durations - 1 day, 7 days, and 15 days - providing users with flexibility and control over their profile's prominence. Users also had a ability to extend thier "Boost" which would stack it to the existing Boost.
Microtransaction Integration: Boost was seamlessly integrated as a microtransaction on top of the existing subscription model, ensuring a smooth user experience.
Roll-out Strategy
The Boost feature was deployed site-wide to our entire user base. However to gatekeep, we made it by design for only users who have already upgarded to be able to "Boost" thier profile
Results
In the very first hour, six users opted to boost their profiles, setting the stage for what would become a transformative addition to the platform. The Boost feature proved to be a resounding success, contributing significantly to our weekly revenue. In fact, it accounts for an impressive 7.8% of our total weekly earnings.
User Adoption
Surprisingly, we observed that caregivers were more inclined to utilize the Boost feature compared to seekers. This behavior indicates a strong demand for increased visibility among caregivers, potentially due to the competitive nature of the caregiver market.
Repeat Usage
Encouragingly, users not only embraced the Boost feature but also demonstrated a propensity to use it repeatedly, highlighting its perceived value and effectiveness in their pursuit of successful matches.
Impact
+7.8%
Additional Weekly Revenue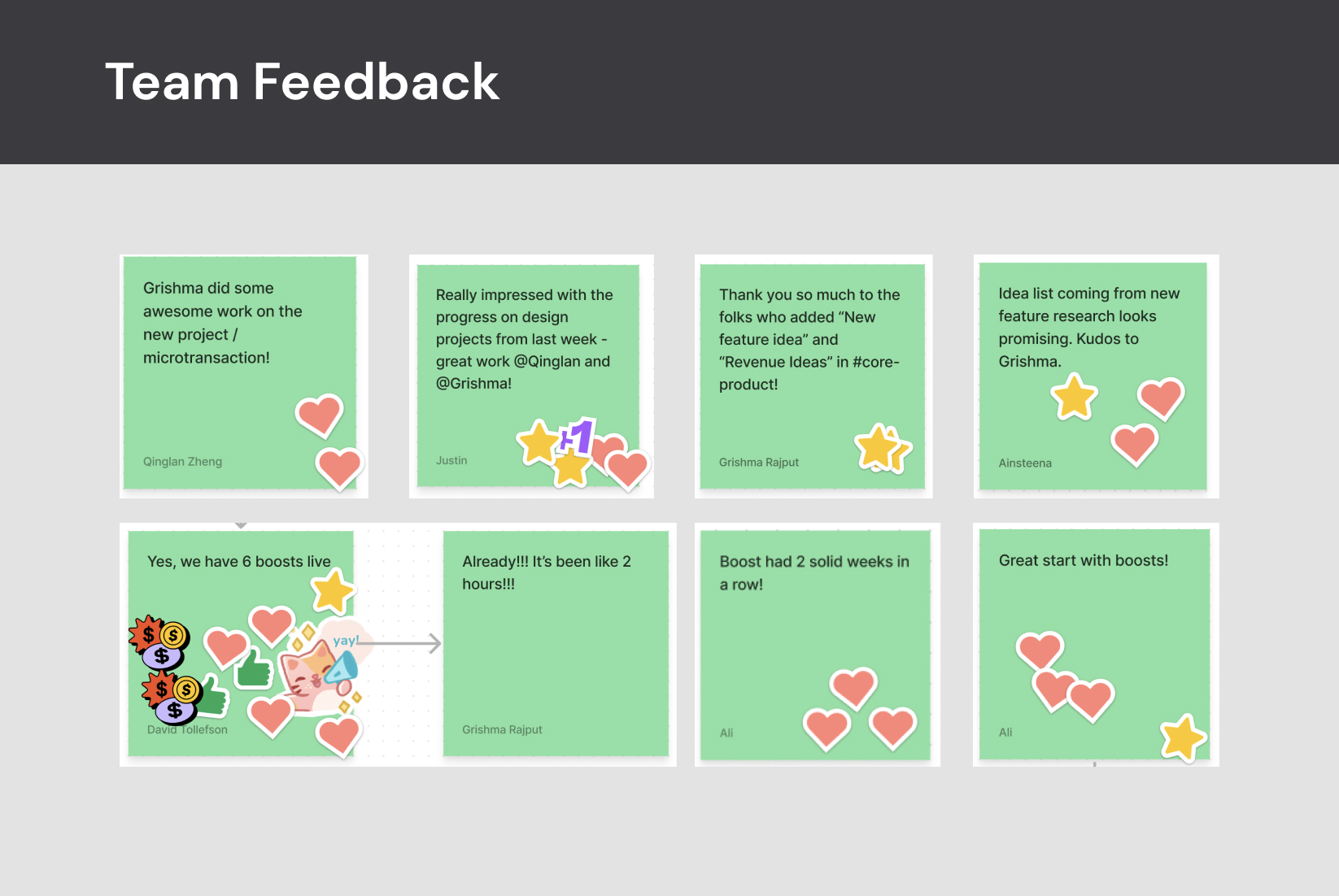 "The more you focus on the value of your product, the less important price becomes."