Video Recording
Areas
Research, Ideate, Design
Background
Lessonpal is an ed-tech marketplace connecting students with tutors for 1:1 lessons. The platform primarily catered to elementary and high school students, with college students as a tutor base. It offers tool for lesson planning, scheduling, and managing students.
As a Product Designer, I had the opportunity of working on this project aimed at increasing user engagement and improving content quality. At Lessonpal, we understand the significance of first impressions and the power of a compelling introduction. That's why we undertook this project to revolutionize the way tutors present themselves on the platform.
Problem Statement
One critical aspect of our tutor onboarding process was the "Video Recording" feature. An introduction video is collected during onboarding and displayed on tutors' profiles, this would allow them to have a personal touch, build a connection with students and ultimately a better chance of a conversion.
The initial MVP required tutors to manually paste video links from external platforms, leading to a significant drop-off in user engagement. Moreover, the quality of the content was inconsistent, with some tutors creating rushed, low-effort videos to fulfil onboarding requirements.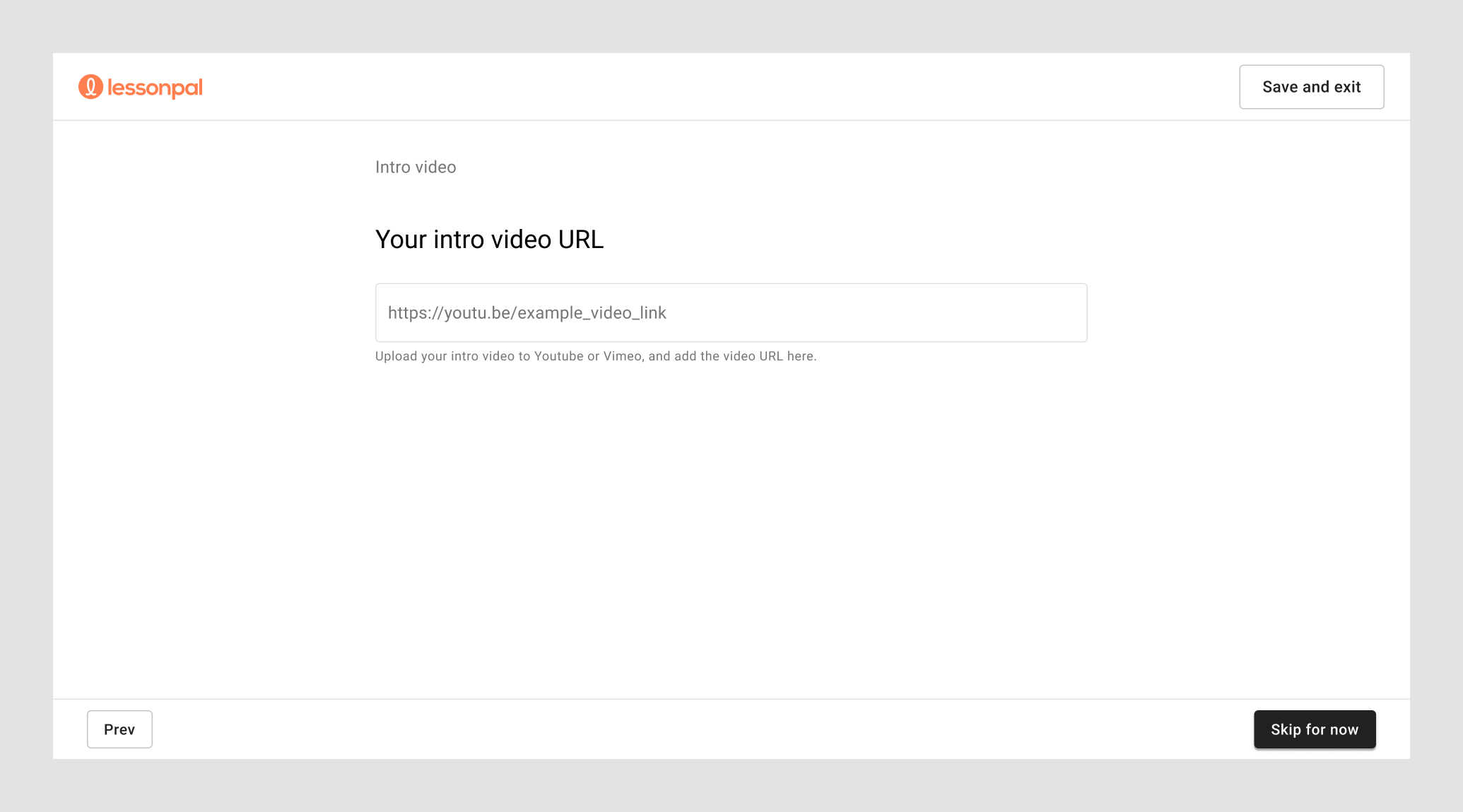 Research and Discovery
Competitive Analysis
To gain insights into best practices, we conducted an in-depth analysis of similar platforms such as Wyzant, and Preply, and explored successful onboarding experiences from marketplace platforms like Airbnb and Fiverr. This research revealed that seamless video integration and user guidance were crucial elements.
User Feedback
Our ongoing research interviews with tutors highlighted the inconvenience of external video links and the desire for guidance in creating impactful introductions.
User Flows and Ideation
Working closely with the Product Manager, we outlined specific requirements and conducted brainstorming sessions. We identified three key components: video recording, video uploading, and comprehensive guidance for users.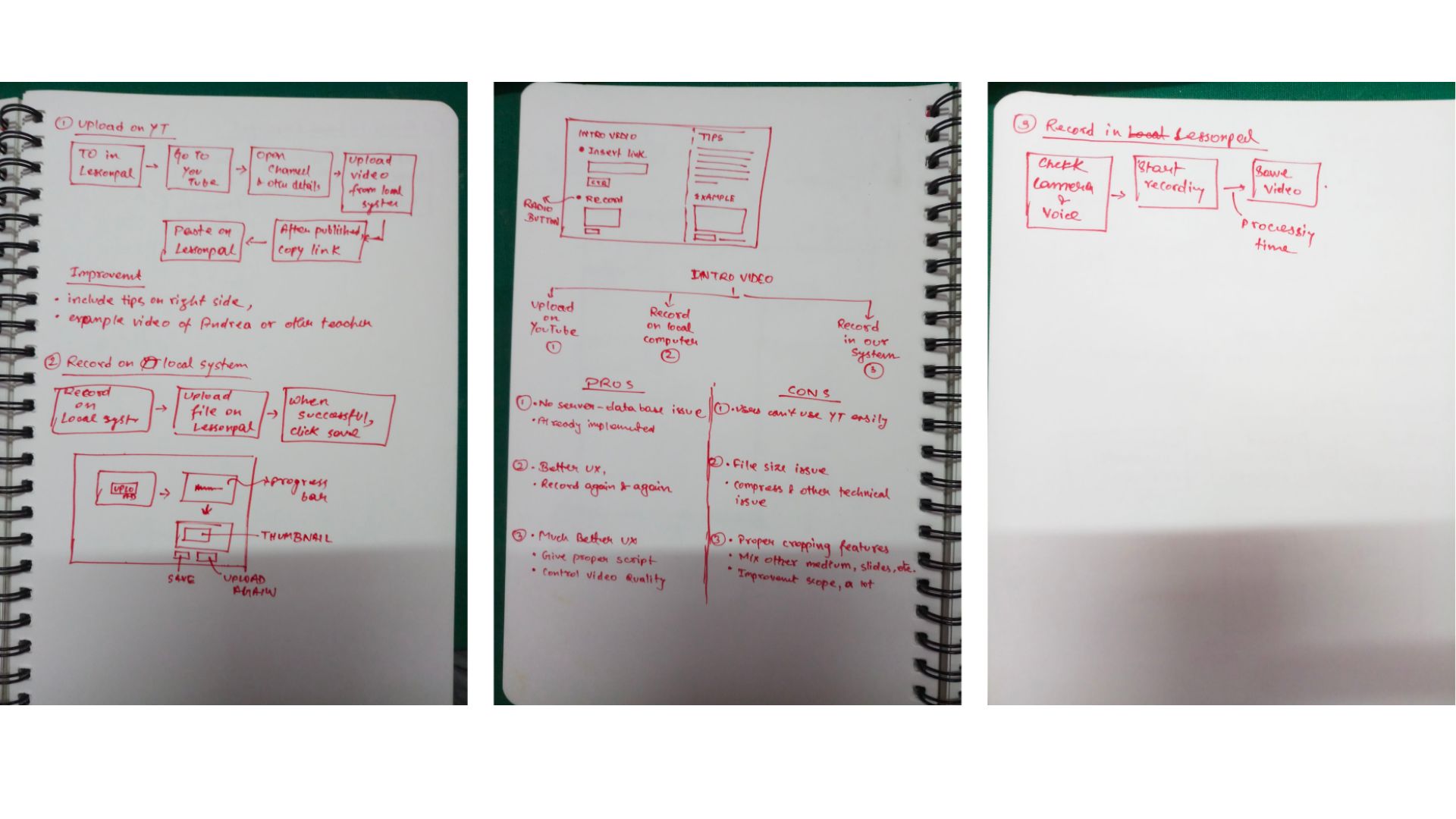 Solution
Video Recording Experience
We designed an intuitive, in-platform video recording experience for tutors to create personalized introductions. This eliminated the need for external links and encouraged tutors to invest genuine effort into their videos. The feature included options for retakes, ensuring tutors were comfortable with their final submissions.
Guided Tips and Examples
We implemented a comprehensive set of tips and examples to guide tutors in creating impactful introduction videos. This feature aimed to enhance the quality and relevance of the content. Tips covered aspects such as framing, lighting, and creating engaging narratives.
Results
Efficiency
Time on task was reduced for the overall onboarding process, ensuring a smoother and more efficient experience for tutors.
Preference for Recording
Users overwhelmingly preferred the in-platform recording option over uploading external links.
Content Quality
Tutors produced higher-quality videos, resulting in more meaningful matches with students.
Iterative Process
Many users took advantage of the ability to rerecord their videos, highlighting the importance of providing this option.
Impact
"Videos can attract a different audience, one that might not want to take the time to read a white paper or an article."